11/29/2010 11:49:00 AM
kenmouse , Posted in
Box Office
,
Featured Stories
,
Movie News
,
0 Comments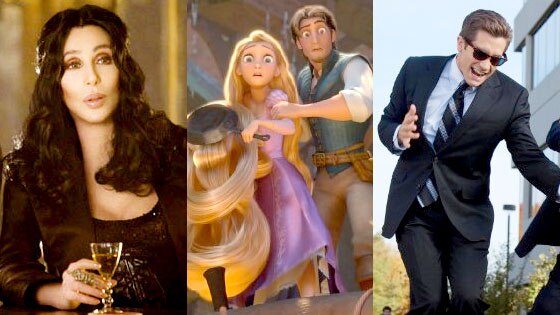 Harry Potter and the Deathly Hallows Part 1 ruled the Thanksgiving box office, with an estimated $50.3 million Friday-Sunday gross.
But did Tangled challenge Potter? Do Jake Gyllenhaal and Anne Hathaway nude scenes sell? Was Burlesque really the new Showgirls? And, let's have at it, what was the weekend's biggest turkey?
The surprising answers:
For starters, nope, Burlesque was not the new Showgirls: Showgirls opened bigger.
Yup. If you use Box Office Mojo's secret formula, and adjust the box-office receipts of the 1995 "classic" for inflation, you'll find the elder film grossed roughly $14.8 million in its Friday-Sunday debut versus the $11.8 million weekend for Cher's and Christina Aguilera's backstage musical.
But, hold on…
Showgirls was a more expensive movie (it cost $45 million in '95), which flatlined fast. The $55 million Burlesque perked up over the weekend, after an awfully slow start on Wednesday and Thursday.
Other things to consider: One, people who saw Burlesque liked it (its CinemaScore was, no lie, an A-minus); and, two, the movie is playing to an older crowd, or, in other words, it's playing to the kind of people who don't rush to the multiplex 'cause, you know, they might pull something.
So, the bottom line: Burlesque is not the new Showgirls. Still. (Yet?)
As for the rest of the weekend's big questions:
• Yes, Tangled (second place, $49.1 million Friday-Sunday) gave Harry Potter a run for No. 1. Since opening Wednesday, the 3-D toon has grossed $69 million. Per Disney, Tangled is the second-biggest Thanksgiving opener on record, behind only Toy Story 2.
• No, the holiday wasn't quite as frenzied as last year when New Moon paced the box office. And, yes, Twilight fans will point out that New Moon made more in its first 10 days than Deathly Hallows Part 1 has made in its first 10 days. But, no, nobody's going to turn down the $220.4 million HP7 has made so far domestically. (Since Wednesday alone, the film has grossed $76.3 million.)
• No, the promise of a naked Gyllenhaal and a naked Hathaway didn't goose Love and Other Drugs (sixth place, $9.9 million Friday-Sunday; $14 million Wednesday-Sunday). But if the movie has legs, and if awards season is kind, the romantic drama, which only cost $30 million, may yet be OK.
• Yes, The King's Speech ($349,791) looked like a Best Picture front-runner, winning great reviews, and averaging a royal $87,448 at each of its four opening-weekend screens.
• No, Faster (seventh place, $8.7 million Friday-Sunday) wasn't quite exactly a triumphant return to action for Dwayne Johnson, but, yes, since opening Wednesday, the $24 million flick has already made back half its budget. So, no, no, no, Faster was not Hollywood's Thanksgiving turkey.
Without further ado, the "winner" of the weekend's worst performance goes to:
The Nutcracker in 3D!
The dance movie—which charged 3-D ticket prices, remember—averaged just $1,624 at each of its 42 theaters, for a grand-sum gross of $68,208.
The turkey-title clincher: The thing cost a reputed $90 million.
Burlesque, you are one lucky movie.
Here's a complete look at the weekend's top-grossing films, per Friday-Sunday estimates compiled by Exhibitor Relations:
Harry Potter and the Deathly Hallows Part 1, $50.3 million
Tangled, $49.1 million
Megamind, $12.9 million
Burlesque, $11.8 million
Unstoppable, $11.75 million
Love and Other Drugs, $9.9 million
Faster, $8.7 million
Due Date, $7.3 million
The Next Three Days, $4.8 million
Morning Glory, $4 million