12/13/2010 11:16:00 AM
kenmouse , Posted in
TV News
,
0 Comments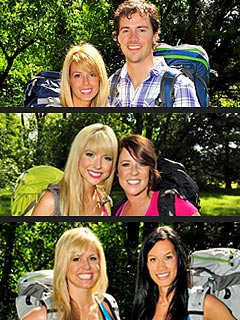 Amazing Race host Phil Keoghan swears on his passport that season 17's finale, which airs Sunday on CBS, is chock full "memorable and very cool moments."
And that's saying a lot considering this season saw a contestant get a runaway watermelon to the face, an on-air proposal, the longest penalty and a team who slept through their pit stop departure time by more than two hours.
"It's hard to believe, but this is the first time in our series history that we've ended the race in Los Angeles. Nothing like maneuvering your way to the finish line through L.A. traffic," Keoghan told PEOPLE recently. "We have one challenge where teams literally have to face their fears and phobias in order to avoid choking with $1 million on the line."
And a bonus: "Look for a surprise appearance by one of the most famous game show hosts of all time," he says.
It's also the best chance in series history for an all-female team to be crowned the winner with two of the three remaining duos lacking a Y chromosome.
"I know the first person I would hear from is my daughter," he says. And while Keoghan understands why his daughter and viewers are thrilled at the possibility, the host reminds them not to put the cart in front of the horse. "As I keep telling her, the great thing about The Amazing Race is that it's a fair competition," he says. "You can't write the script."
Final Three
Not that he hasn't sized up the competition.
The doctors Nat Strand, 31, and Kat Chang, 35, "epitomize strong, independent, intelligent women." He feels their chosen career path both helps and hinders them. "Their experience in medicine helps them stay calm under pressure and make calculated decisions," says Keoghan. "[But] their calm demeanor could work against them when the race calls on them to operate at full speed."
The couple, hairstylist Jill Haney, 27, and ad sales director Thomas Wolfard, 30, "are a highly competitive team who isn't afraid to step over anyone or each other to win." But the couple's path to the finale has been anything but smooth. "When the pressure mounts, there is a disconnect that occurs that creates a rift and weakens their chances of running an efficient race."
Despite misreading a clue in the second-to-last leg and seemingly bickering with growing frequency, the Home Shopping hosts Brooke Roberts, 27, and Claire Champlin, 30, have run a strong almost error-free race. "These two finish each other's sentences," he says. "They're completely in sync," but he adds, "while they're a mental match, physically Brooke takes a leadership role and when it really matters most, they may not be able to meet each other's expectations."