12/13/2010 03:29:00 AM
kenmouse , Posted in
Box Office
,
Movie News
,
0 Comments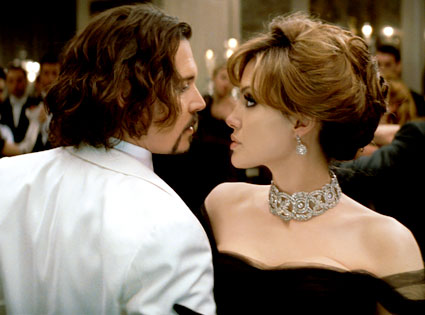 Angelina Jolie and Johnny Depp can do no box-office wrong, right? Er, well…
The stars' The Tourist was left stranded with a second-place, $17 million weekend debut, per estimates.
What happened?
Take your pick: lousy reviews; lousy weather (sunny Los Angeles, excluded); an overall blah weekend for Hollywood; etc.
The result was a steep comedown for Depp, whose last film was Alice in Wonderland. It was more in line with 2004's Secret Window, which also happens to be the last time Depp played an ordinary man (by Depp standards).
For Jolie, this is more the norm—she hasn't had a No. 1 opener since Mr. & Mrs. Smith. (At the same time, she's had several money-makers since then, so there you go.)
With a reputed price tag of $100 million, The Tourist has a lot on the line. If Jolie and Depp weren't international draws, their film would be DOA, but they are, and The Tourist isn't. So far, the movie has debuted in a few countries overseas; its worldwide total stands at $25 million.
The latest Narnia movie, meanwhile, seemed to prove that opening No. 1 isn't necessarily where it's at.
The Voyage of the Dawn Treader topped all films with a $24.5 million take that was a long way away from Prince Caspian ($55 million), which itself was so far away from The Lion, the Witch and the Wardrobe ($66 million) that the franchise almost ended right there. Quipped Exhibitor Relations in a tweet: "The ship has sailed on Narnia."
Or has it?
The foreign box-office numbers were huge, lifting Dawn Treader's worldwide gross to $105.5 million, and just about helping the film cover its price tag.
Elsewhere, last weekend's champ Tangled fell to third, with a solid $14.6 million, but neared $200 million worldwide. (And perhaps not a moment too soon: The Disney toon reportedly cost in the neighborhood of $200 million.)
Harry Potter and the Deathly Hallows Part 1 (fourth place, $8.5 million; $257.7 million overall domestically) stayed strong, while Natalie Portman's Black Swan (sixth place, $3.3 million; $5.6 million overall) crashed the Top 10 on the strength of only 90 screens.
In extremely limited release, Mark Wahlberg's and Christian Bale's The Fighter killed, earning $320,000 at four theaters for a weekend-best per-screen average.
Here's a complete look at the weekend's top-grossing films, per Friday-Sunday estimates compiled by Box Office Mojo:
The Chronicles of Narnia: The Voyage of the Dawn Treader, $24.5 million
The Tourist, $17 million
Tangled, $14.6 million
Harry Potter and the Deathly Hallows Part 1, $8.5 million
Unstoppable, $3.8 million
Black Swan, $3.3 million
Burlesque, $3.2 million
Love and Other Drugs, $3 million
Due Date, $2.5 million
Megamind, $2.5 million