12/04/2010 11:28:00 AM
kenmouse , Posted in
Celebrity-Gossip
,
Gabriel Aubry
,
Halle Berry
,
Kim Kardashian
,
0 Comments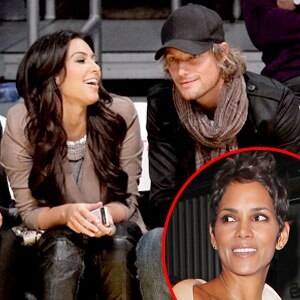 Kim Kardashian may be cold as a corpse on Twitter, but her love life is red-hot lately.
And while we're still swooning over K. finally trading in commitment-phobe ballplayers for some sideline snugglin' with an über-yummy French-Canadian model, we can't help but wonder how Gabriel Aubry's ex feels about the sitch.
So is Halle ready to keep up with the Kardashians?
Hardly.
Don't think she's too worried about who her delish former dude is linked to these days, since she nabbed another French-bred stud, Olivier Martinez, and things seem to be getting semi-serious.
Even though O. wasn't by her side at the Los Angeles premiere of her new flick Frankie & Alice this week, he was definitely in attendance—supporting his GF from afar. We're not too shocked seeing as the twosome has caused chaos before when hitting the town together.
The Oscar-honored actress looked super menswear chic in a Balmain Jacquard suit, but we think she'd have looked even more fab with some man candy by her side. C'mon, not even one pic to counter the courtside canoodling of your ex and E!'s reality queen?
Talk about confidence!
But it also might have something to do with the fact that Hal and her baby daddy aren't on bad terms. Like at all.
Guess we'll have to wait until Kim and Gabriel—who seem to be getting quite cozy very quickly (they spent turkey day together, after all)—take things to the next level to see what Halle really thinks.
We're thinking a lovey-dovey tweet or two, another Kardash reality series documenting their courtship, a televised wedding (of course), and then surprised cameos by Hal when Kim and Gabriel stop by to pick up H&G's daughter for the weekend.
Keeping Up With the Aubrys, anyone?
OK, OK, maybe we're getting ahead of ourselves. But we're just happy Kim landed a stand-up stud for once. So sue us.