11/28/2010 12:28:00 PM
kenmouse , Posted in
Celebrity-Gossip
,
Jake Gyllenhaal
,
Taylor Swift
,
0 Comments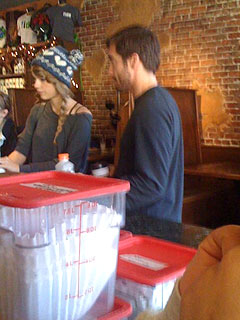 It's been a busy travel weekend for most Americans – and especially for Taylor Swift and Jake Gyllenhaal.
Two days after enjoying maple lattes together in Brooklyn, N.Y., on Thanksgiving, Swift and Gyllenhaal popped up in the singer's hometown of Nashville.
On Saturday afternoon, the couple were spotted getting a late breakfast at Fido, a coffeehouse and café near Vanderbilt University and Music Row.
"They were smiling and laughing. They were talking a lot and enjoying each other's company," fellow diner Elaina Mishu tells PEOPLE. "They didn't look like [just] friends."
Customer Emma Rice, who snapped a photo of the pair and posted it online, calls the duo "very cute" and says, "They seemed close."
The singer, 20, and actor, 29, were first spotted together in late October.
And while Gyllenhaal has avoided commenting on his relationship with Swift, they aren't hiding their affection.
"They were not trying to be discreet by any means," another eyewitness says of the pair, who sat at a table near a window. "They were definitely a couple. They looked very happy."