12/01/2010 02:00:00 AM
kenmouse , Posted in
Celebrity-Gossip
,
John Mayer
,
KATY Perry
,
Russell Brand
,
0 Comments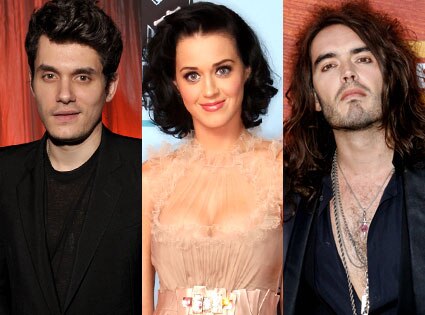 Can you picture a Katy Perry-John Mayer wedding? Neither can we. But "Payer" was well on its way to making sweet music together when Russell Brand intercepted her at the 2009 VMAs and snagged the "I Kissed a Girl" singer for himself.
We know they're blissfully married now. And we know they fell in love at first sight at the awards show. But it's what happened the very night before that could have thrown the entire meeting off...
See, Perry and Mayer met the previous evening at Gold Bar in New York, after weeks of exchanging flirty tweets and texts.
"They'd never met in person, and she went to meet him there after she was at a Jay-Z concert at Madison Square Garden," a source close to Mayer tells E! News.
Mayer had joined Jay-Z at MSG for a performance and afterward asked fellow showgoer Perry to meet up later that night.
"John thought she was so hot and fun and was into her," the insider recounts.
"They were so flirty and all over each other that night at the bar, they really liked each other. Their personalities just clicked and they were flirting and dancing and it was on."
And how. They stayed at the bar until late, leaving only moments apart from the downtown bar—conveniently just around the corner from Mayer's love nest.
The next day, which happened to be the VMAs, the two traded more texts. But before their relationship could blossom any further, enter Brand.
The British funnyman, who was hosting the awards, was instantly taken by Perry, openly admiring her from the stage. She was equally smitten.
And they've been inseparable ever since.
Apparently John Mayer doesn't always get the girl. Who knew?