12/10/2010 02:29:00 AM
kenmouse , Posted in
Celebrity-Gossip
,
Howard Stern
,
0 Comments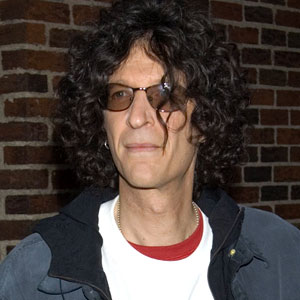 Looks like David Arquette's favorite therapist is sticking around for a while.
Howard Stern revealed this morning on his show that he has signed on for another five years at Sirius XM radio, following down-to-the-wire negotiations with the satellite radio juggernaut.
"I'm thrilled about it, I believe Sirius is the future," the shock jock exclusively tells E! News. "I'm raring to go."
So what's the new deal entail?
Well, as of now, all his staff will be returning, and they will all likely have less working hours. Staffers will be negotiating their own contracts separately in the coming weeks.
"I hope everyone continues for the next five years," Stern says of his beloved crew of writers and Wack Packers.
And exactly how huge will his paycheck be?
"I don't discuss my salary, but I can tell you it's ballpark $100 billion," he jokes. "My contract is very fair, I'm very pleased."
Most importantly, he says, his hot wife, Beth Ostrosky-Stern, is relieved he won't be bugging her at home every day, all day.
"Beth has the best Christmas coming her way this year—the gift of time with me. There's nothing more precious than my time."
And then she'll get another bonus: "I'm fully aroused with my new contract," he laughed.
Stern wouldn't go into more detail about the terms of the new contract, but did say it allows him more "flexibility"—hinting that future shows could possibly be fewer hours, or only run live three days a week rather than the current four.
"The contract allows for me for a new flexible schedule," Stern says. "I'll have more flexibility. But I'll get into that in the future."
Stern's own father, Ben, called in today, saying he honestly didn't know what Howard has chosen to do, but was happy with his son's decision. "I had a feeling deep down," Ben said.
"Not only am I happy here, everyone's happy here, we continue to grow," Howard told his dad, adding a sweet, "I love you pop."
Stern, whose current five-year, $500 million contract was due to expire at the end of the month, says his new deal is the first one he's ever actually sat down and read himself.
"I was busy yesterday running around signing up, it's the first time I ever sat and actually read one of my contracts. All of a sudden I'm a lawyer," he cracks.
But you better enjoy Howard while you can. He tells us, "I can say with almost certainty that this is my final five years on radio."