12/10/2010 11:08:00 AM
kenmouse , Posted in
Celebrity-Gossip
,
Jake Gyllenhaal
,
Kristen Stewart
,
Robert Pattinson
,
Taylor Swift
,
0 Comments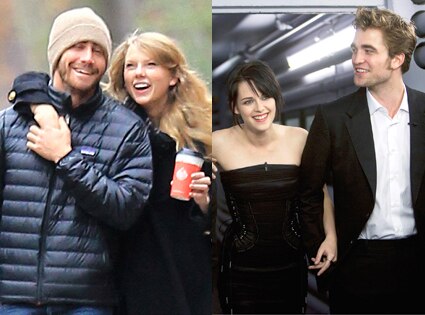 We've bitched tons how we've been on caffeine overload just from reading about Taylor Swift and Jake Gyllenhaal's gazillion coffee dates. And now friends of the couple known as Jaylor are coming forward and telling us to, uh, reconsider.
Here's what's being said:
"She's not 21 yet, what else are they supposed to do?" sasses a source close to Jake.
Adds another insider when we pressed what we can expect from the couple after Swift's birthday next week:
"Well, what Taylor's really looking forward to about turning 21 is being able to go to clubs and see bands she's never been able to see before."
Jake will be in attendance as well, natch.
"She's really looking forward to that," assures Deep Jaylor. "She hasn't liked that she hasn't been able to do that before."
Somehow we think her version of clubbing may be different than that of, oh say, Miley Cyrus.
Doesn't this slightly sound like another couple we know? Robsten, perhaps?
Kristen Stewart and Robert Pattinson frequent the music scene together, especially in L.A. It's pretty much a perfect date night around Hollywood parts.
Guess their choice in bands are more 18-and-over appropriate, since K.Stew isn't 21 yet, either, and she still goes to certain venues.
Then again, we highly doubt Stewart and Swift have the same taste in tunes.
Still, the fact that Jaylor is a couple with a dating plan makes us a bit less cynical.
Oh yeah, the kicker from Deep Jaylor:
"And what's the big deal if they just really like coffee?"
Uh, we're done on that subject. We'll leave it to the rest of you jaded types to weigh in here.