10/30/2010 02:49:00 AM
kenmouse , Posted in
Celebrity-Gossip
,
Taylor Swift
,
0 Comments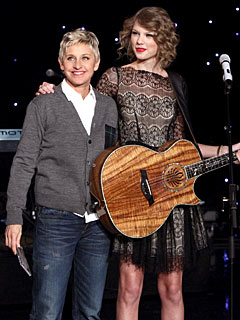 Getting to the heart of the matter, Ellen DeGeneres doesn't let Taylor Swift off the hook when it comes to asking what's going on between the country superstar and Jake Gyllenhaal.
"Are you optimistic about love? How do you feel about love right now?" DeGeneres, addressing the topic at hand, asks Swift on The Ellen DeGeneres Show episode airing Monday.
"I'm always optimistic about love," responds Swift 20.
Confirming Swift's stance, DeGeneres repeats, "So you're always optimistic about love?"
"Yes, always, sometimes," says Swift, beginning to backtrack slightly.
"But right now you are?" asks DeGeneres.
"Well, why wouldn't anyone be?" says Swift, before DeGeneres boldly states, "Especially if your boyfriend is Jake Gyllenhaal, because he is very handsome."
But, DeGeneres concludes, "Y'all are just hanging out though, right?"
Swift acknowledges that she and Gyllenhaal were photographed together in New York last weekend. As the singer says to DeGeneres, "You have a picture of us on the [TV] screen, don't you?"
"Right," admits DeGeneres. "But it's just y'all hanging out – this does not prove anything. I'm just saying he's adorable and I like him very much, and so if that is the case that he's your boyfriend, I think that's fantastic."
Still, noting that Swift herself admits that she writes songs about her boyfriends once the relationships end, DeGeneres asks Swift on Gyllenhaal's behalf, "Wouldn't he be nervous if anything goes wrong?'