10/29/2010 11:27:00 AM
kenmouse , Posted in
Mission Impossible 4
,
Movie News
,
Tom Cruise
,
0 Comments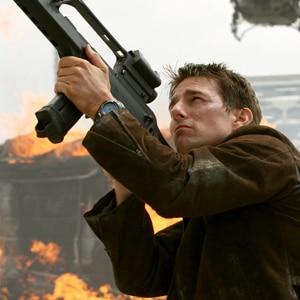 It's been a busy few days for sequel moniker reveals. First we had Transformers 3: Dark of the Moon then The Dark Knight Rises.
Now, realizing that the movie-going public may be math-averse, Tom Cruise has just announced that his fourth Mission: Impossible adventure will eschew the numeric subtitle. So what's the new name and how does it stack up to those other recently unveiled franchises?
Drumroll please...
"It is going to be Mission: Impossible and Ghost Protocol—that will be the title of this film," the A-lister told reporters at a press conference today in Dubai.
"All I wanted is not to have a number," said Cruise, elaborating on the switcheroo. "I always thought we should have a title aside from Mission: Impossible."
Cameras are set to roll in Dubai, hence the presser and boosterish message from Cruise, who hailed the Middle Eastern metropolis as "very cinematic." Hmm...perhaps that's a reference to the local landmark and tallest skyscraper in the world, the Burj Khalifa, and maybe we'll see undercover dude Ethan Hunt engaging in some death-defying hijinks around there?
Filming will subsequently move to Moscow, Prague and Vancouver. Brad Bird, who won Oscars directing Pixar's The Incredibles and Ratatouille, will be making his live-action debut on M:I-4, er, Mission: Impossible—Ghost Protocol, which costars Jeremy Renner, Paula Patton, Josh Holloway and Mission vets Simon Pegg and Ving Rhames.